Nevada Barr
Nevada Barr worked as an executive assistant, an actress and a park ranger. Her experience as a park ranger shows in her portrayal of Ranger Anna Pigeon. Her books offer the reader the full experience of the deep south.
Hunting Season
Anna Pigeon Series #10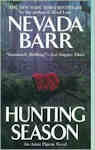 ---
---
Anna Pigeon Mysteries
Track of the Cat
(1993)
A Superior Death
(1994)
Ill Wind
(1995)
Firestorm
(1996)
Endangered Species
(1997)
Blind Descent
(1998)
Liberty Falling
(1999)
Deep South
(2000)
Blood Lures
(2001)
Hunting Season
(2002)
Flash Back
(2003)
High Country
(2004)
Hard Truth
(2005)
Winter Study
(2008)
Borderline
(2009)
Burn
(2010)
---
Hunting Season
by Nevada Barr - (2002)
Hunting Season is the tenth book in the series featuring Anna Pigeon. Anna is back as the District Ranger for the Natchez Trace Parkway in Mississippi. Against the backdrop of the pristine beauty of Mississippi Anna battles poachers, killers, disgruntled employees and of course the ever present undercurrent of racism. As if this isn't trouble enough for one women she is in a romantic entanglement with a married man. The love in Anna's life is Claiborne County Sheriff Paul Davidson, an Episcopal priest who is separated from a wife that is not quite willing to let him go.
Anna has her job cut out for her when she finds a dead body in what appears to be a case of sex games gone wrong. She follows the trail through an old boy network and a god-fearing county that prefers that any kind of sexual kinkiness be kept hidden. In her determination to get at the truth, Anna uncovers old secrets and injustices that make her the killer's next target.
Nevada Barr has a crisp style of writing that lends a sense of truth to her stories and Hunting Season is no exception. The reader is quickly caught up in the story. The characters and background hold a ring of truth for anyone familiar with the deep south, still a constant struggle between the old and the new.
If you like Sue Grafton, J. A. Jance or Sara Paretsky , you will like Nevada Barr.