Barry Eisler
After graduating from Cornell Law School in 1989, Barry Eisler spent three years with the U.S. government. After he left his government job, he practiced various aspects of international law, including three years with two Japanese law firms. While in Japan, Mr. Eisler earned his black belt in judo. Today he lives and works in the San Francisco Bay Area and continues to travel to Japan and Asia frequently.
Rain Fall
A John Rain Mystery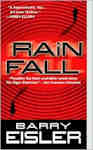 ---
---
John Rain Novels
Rain Fall
(2002)
Hard Rain
(2003)
Rain Storm
(2004)
Killing Rain
(2005)
The Last Assassin
(2006)
Requiem For An Assassin
(2007)
Non-series novels
Fault Line
(2009)
Inside Out
(2010)
---
Rain Fall
by Barry Eisler - (2002)
I just finished reading Rain Fall, a first novel by author Barry Eisler, and I was captivated. Born of an American mother and Japanese father, the hero John Rain, lives a carefully planned life of anonymity in Japan where he works as a hired assassin.
Rain Fall is set against the unforgettable backdrop of the seamier side of Tokyo with its whiskey bars, jazz clubs, love hotels and political espionage. The story opens with the carefully planned death of a man in a subway car. However, this time Rain is drawn into further intrigue by the dead man's daughter, a beautiful jazz pianist. It isn't long before Rain finds himself fighting for her life as well as his own.
In John Rain, Barry Eisler has brought to life an extremely interesting and complicated hero. A combination of training by the U.S. Special Forces and a stint in Vietnam has forged Rain into a cool, calm professional with a unique code of honor that knows when to draw the line. The book is alive with suspense, unsurpassed characterization, intricate plotting and action.
The author graduated from Cornell School of Law. He spent three years working for the government of the United States. He has lived and worked extensively in Japan, where he earned a black belt in Judo. He is currently working on a second book featuring John Rain.