Janet Evanovich
Janet spent the first five years of her writing career producing romances, twelve in all. After two years downtime for retooling, she began writing the Stephanie Plum mysteries and her fans are very glad. Stephanie is a bumbling bounty hunter in New Jersey, with a plus sized ex-hooker sidekick and a gun toting grandmother. When not chasing down FTA's for her boss, Vinnie, she is torn between hitting the sheets with sexy Joe Morelli or dreaming about mysterious Ranger. The Plum books are full of adventure, unforgettable characters and laugh out loud humor. If you haven't started this series yet, you're in for a ride you won't forget.
On November 2, 2004, the first book of Janet's new series will be released. It's called Metro Girl and according to the website will be full of more adventure and steamier sex.
Ten Big Ones
A Stephanie Plum Mystery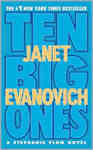 ---
---
Stephanie Plum Mysteries
One For the Money
(1994)
Two For the Dough
(1996)
Three to Get Deadly
(1997)
Four to Score
(1998)
High Five
(1999)
Hot Six
(2000)
Seven Up
(2001)
Hard Eight
(2002)
To the Nines
(2003)
Ten Big Ones
(2004)
Eleven on Top
(2005)
Twelve Sharp
(2006)
Lean Mean Thirteen
(2007)
Fearless Fourteen
(2008)
Finger Lickin' Fifteen
(2009)
Sizzling Sixteen
(2010)
Stephanie Plum - Between the Numbers
Visions of Sugar Plums
(2002)
Plum Lovin'
(2007)
Plum Lucky
(2008)
Plum Spooky
(2009)
Alexandra Barnaby Mysteries
Metro Girl
(2004)
Motor Mouth
(2007)
---
Ten big Ones
by Janet Evanovich - (2004)
In book ten of the Stephanie Plum mysteries, Stephanie is being hunted by a nasty gang in Trenton that wants her dead. Ranger is missing in action, so Stephanie decides that Ranger's "bat cave" is the perfect place to hide.
The book is filled with the usual cast of kooky characters with sexy Joe and mysterious Ranger trying to keep Stephanie alive. You will love the book and the ending is priceless.