Joanne Fluke
Joanne Fluke writes books that are literally delicious. Her mysteries are packed with a least six wonderful recipes. One of the best parts of reading her mysteries is trying the recipes afterwards. Her amateur sleuth, Hannah Swenson, owns a bakery in Lake Eden, Minnesota. Hannah bumbles through life tripping over the odd body and irritating the local police by messing in their investigations.
Like Hannah, Joanne Fluke was born and raised in a small town in rural Minnesota, but now she lives in Southern California.
Peach Cobbler Murder
A Hannah Swensen Mystery with Recipes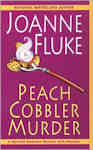 ---
---
Hannah Swensen Mysteries
Chocolate Chip Cookie Murder
(2000)
Strawberry Shortcake Murder
(2001)
Blueberry Muffin Murder
(2002)
Lemon Meringue Pie Murder
(2003)
Fudge Cupcake Murder
(2004)
Sugar Cookie Murder
(2004)
Peach Cobbler Murder
(2005)
Cherry Cheesecake Murder
(2006)
Key Lime Pie Murder
(2007)
Carrot Cake Murder
(2008)
Cream Puff Murder
(2009)
Plum Pudding Murder
(2009)
Apple Turnover Murder
(2010)
Gingerbread Cookie Murder
(2010)
---
Peach Cobbler Murder
by Joanne Fluke - (2005)
Hannah Swensen has had a monopoly on the bakery business in Lake Eden for some time. That is until the Quinn sisters open the Magnolia Blossom Bakery across the street from Hannah's shop, The Cookie Jar. Worse yet, the Magnolia Blossom is luring Hannah's customers quicker that a cookie crumbles. Things really begin to heat up when Hannah notices that the lights are on very late at the Blossom. She drops by to see if there is a problem and as luck would have it, she discovers Shawna Lee Quinn's body on the bakery's kitchen floor. The entire town knows that Hannah has been losing business to the new bakery, so of course she is on the list of suspects. Hannah is determined to clear her name and solve the mystery.
Joanne serves us this tasty treat with a giant helping of 14 new recipes.