Anne George
Anne George passed from this earth on March 14, 2001. She and her Southern Sisters will be missed more than words can possibly express. Our thoughts and prayers go out to her family and friends.
Murder Carries a Torch
A Southern Sisters Mystery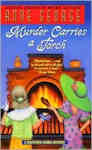 ---
---
Mary Alice Crane and
Patricia Anne Hollowell Mysteries
Murder On a Girl's Night Out
(1996)
Murder On a Bad Hair Day
(1996)
Murder Runs in the Family
(1997)
Murder Makes Waves
(1997)
Murder Gets a Life
(1998)
Murder Shoots the Bull
(1999)
Murder Carries a Torch
(2000)
Murder Boogies With Elvis
(2001)
Murder Carries a Torch
by Anne George - (2000)
Murder carries a Torch is the sixth book in this series written by Anne George. If you haven't read her books, you are missing a real treat. Ms. George has created two very funny and memorable characters. Mary Alice with her ample figure and flamboyant style has married and buried more husbands than anyone can track and is always on the lookout for the next Mr. Right. On the flip side, petit sister, Patricia Anne is a retired school teacher and has been happily married to her Fred for more years than she cares to count.
Murder Carries a Torch finds the sisters dealing with cousin Pukey Lukey. Luke's wife has just run off with a house painter/preacher and he's begging the sisters to help him find her and bring her back. The book has the usual dead body and cast of characters that turn the entire episode into an outrageously funny mystery solving event. Interwoven into the stories is the unique ambience of the South. The setting is historic Birmingham, Alabama with its 55 foot iron statue of Vulcan in the buff that dominates the city from the summit of Red Mountain.
A happily married, retired school teacher herself, Anne George manages to give the reader a real sense of time and place with her warm and humorous look into life in the South. You will probably find yourself or someone you know in these books. Without a doubt you will come to look on Mouse (Patricia Anne) and Sister (Mary Alice) and their children, spouses, in-laws and outlaws with the fondness that comes from knowing a person's flaws and accepting them anyway.