J. A. Jance
Ms. Jance's first series features retired homicide cop J. P. Beaumont and has enthralled readers since 1985. Beau is a tough cop with inherited money and a soft side.
In 1993 Ms. Jance brought us her second series featuring Arizona sheriff, Joanna Brady. Joanna ran for sheriff when her husband lost is life on the job. Joanna does what all women do, she juggles her job, her daughter, her in-laws and her life with grace and confusion.
Partner In Crime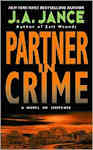 ---
---
J. P. Beaumont Mysteries
Until Proven Guilty
(1985)
Injustice for All
(1986)
Trial by Fury
(1986)
Taking the Fifth
(1987)
Improbable Cause
(1988)
A More Perfect Union
(1988)
Dismissed With Prejudice
(1989)
Minor in Possession
(1990)
Payment in Kind
(1991)
Without Due Process
(1992)
Failure to Appear
(1993)
Lying in Wait
(1994)
Name Withheld
(1995)
Breach of Duty
(1999)
Birds of Prey
(2001)
Partner in Crime
(2002)
Sentenced to Die
(2005)
Long Time Gone
(2005)
Justice Denied
(2007)
Fire and Ice
(2009)
Joanna Brady Mysteries
Desert Heat
(1993)
Tombstone Courage
(1994)
Shoot, Don't Shoot
(1995)
Dead to Rights
(1996)
Skeleton Canyon
(1997)
Rattlesnake Crossing
(1998)
Outlaw Mountain
(1999)
Devil's Claw
(2000)
Paradise Lost
(2001)
Partner in Crime
(2002)
Exit Wounds
(2003)
Dead Wrong
(2007)
Damage Control
(2008)
Fire and Ice
(2009)
---
Partner in Crime
by J. A. Jance - (2002)
In Partner in Crime Ms. Jance delights all of her fans by bringing both of her series characters together in one book. After the discovery of a corpse in Joanna Brady's Cochise county, the trail leads to the Washington State Attorney General's Witness Protection Program.
The newest member of the AG's Homicide Investigation Team, J. P. Beaumont, is sent to Bisbee, where he meets Joanna Brady. From there the novel is littered with interesting suspects, including a contract killer. Ms. Jance's flare for storytelling seamlessly combines the two characters, giving us once again a well crafted story.