Evan Marshall
Evan Marshall is president of the Evan Marshall Agency, a literary agency representing novelists. He also worked as an independent book packager. This experience shows in his Jane Stuart mysteries. Stuart is a literary agent and Marshall gives us an entertaining look at the field of publishing.
Hanging Hannah
A Jane Stuart & Winky Mystery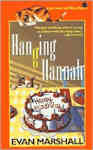 ---
---
Jane Stuart and Winky Mysteries
Missing Marlene
(1999)
Hanging Hannah
(2000)
Stabbing Stephanie
(2001)
Icing Ivy
(2002)
Toasting Tina
(2003)
Crushing Crystal
(2004)
Anna Winthrop Mysteries
Death is Disposable
(2008)
Evil Justice
(2009)
Dark Alley
(2010)
City in Shadow
(2010)
---
Hanging Hannah
by Evan Marshall - (2000)
Hanging Hannah is Evan Marshall's second book about widowed literary agent Jane Stuart and her cat, Winky. Her last experience with death led to an article in People magazine. Now Jane is anxious to shake the unwanted title of North Jersey's Miss Marple and return to reading book proposals and making deals with publishers.
However, this is not to be. The first dead body is found in the grove behind a local inn during a birthday party for Jane's 10-year-old son Nick. Of course, the citizens of Shady Hills expect their local amateur sleuth to solve the crime. This first death is quickly followed by two other apparently unrelated deaths. It isn't long before Jane finds herself trying to solve the multiple murders while dealing with her new client, the spoiled, pop media sensation, Goddess. In the midst of this unlikely mess, Jane finds romance with Shady Hills, New Jersey police detective Stanley Greenberg.
Driven by curiously and a desire to help friends, Jane uncovers more than one family secret, making her next on the killer's hit list. A rich, well-developed cast of characters and a well developed plot make this book an entertaining and fast-paced read.
Mr. Marshall has given us an entertaining inside look into the world of a literary agent. The author, like his sleuth, heads his own literary agency in a small town in New Jersey. He has firsthand knowledge of how to deal with authors and publishing houses. This knowledge is apparent as we follow Jane Stuart through the publishing world.