Alex Matthews
Ms. Matthews central character, Cassidy McCabe is an amateur sleuth that runs her psychotherapy practice from her home. Although the books deal with some serious topics, they manage to do so without dwelling on the dark and depraved side of human nature. They are also loaded with memorable characters, both human and feline.
Secret's Shadow
a Cassidy McCabe Mystery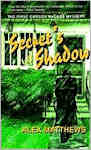 ---
---
Cassidy McCabe Mysteries
Secret's Shadow
(1996)
Satan's Silence
(1997)
Vendetta's Victim
(1998)
Wanton's Web
(1999)
Cat's Claw
(2000)
Death's Domain
(2001)
Wedding's Widow
(2003)
Blood's Burden
(2006)
Murder's Madness
(2008)
---
Secret's Shadow
by Alex Matthews - (1996)
Secret's Shadow is the first book in the Cassidy McCabe series. Cassidy is a therapist with a history of choosing the wrong men. With a desire to remain independent she is struggling to pay off the back tax debt incurred by her ex-husband. Like many women, Cassidy battles her mother's voice in her head.
In Secret's Shadow, her client, Ryan Hollister, commits suicide and leaves a note blaming the therapy. She finds herself faced with a malpractice suit, lapsed malpractice insurance and guilt that she didn't see it coming. When Ryan's brother Zach expresses his opinion that Ryan was never suicidal, Cassidy lets herself be coerced into helping him prove his theory and her innocence.
Alex Matthews has created a wonderful combination of memorable characters, including a cat that adopts Cassidy as a handmaiden. This book is well crafted with plenty of plot twists and a heroine who attracts trouble while managing not to take herself too seriously. Once I started reading Secret's Shadow, I couldn't put it down. Unlike some psychological mysteries, Ms. Matthews manages to tell the story without dwelling on the depraved side of human nature.
If you like quirky characters, cats and adventure blended with the human condition, you will like Secret's Shadow. And, my guess is that you will find parts of yourself in Cassidy.