Katy Munger
A stint in prison makes it illegal for Casey Jones to obtain a P.I. license. Not one to let a little thing like that stop her, Casey operates illegally with a forged license. Based in North Carolina, Casey works for Bobby D. and together they give us fast paced and fun. Katy Munger gives us well crafted mysteries filled with hard action and littered with sex and humor. My only complaint with the novels is that there aren't more.
Bad To The Bone
a Casey Jones mystery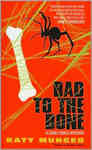 ---
---
Casey Jones Mysteries
Legwork
(1997)
Out of Time
(1998)
Money To Burn
(1999)
Bad to the Bone
(2000)
better Off Dead
(2001)
Bad Moon On The Rise
(2009)
---
Bad to the Bone
by Katy Munger - (2000)
Bad to the Bone is the fourth book in the series featuring Casey Jones. Due to a past that includes an unjust stint in jail, Casey is working as an unlicensed private investigator. Casey is big, blond and bold and her take no prisoners, smart-mouthed antics will have you laughing out loud.
In this book, Casey is set up by Tawny Bledsoe, who is posing as a battered wife to get Casey to take her case. Tawny claims that her estranged husband has disappeared with their child and wants Casey to locate them. Casey begins to suspect that she has been set up and is convinced of it when the check Tawny gave her bounces.
Determined to bring Tawny down, Casey sets out on a chase that leads from Florida to North Carolina. The cast of characters includes Casey's ex-husband and a police detective that has lusted after Casey (and vice versa) for some time. The action is non-stop and the high quality of writing will leave you wanting more.
If you like Sue Grafton or Janet Evanovich, you will also like Katy Munger. Don't miss these action packed books.