Sara Paretsky
Sara Paretsky's sleuth is V.I. Warshawski. V.I. is a tough and smart Chicago P. I. with a great circle of friends. Unlike a lot of fictional characters, Ms. Paretsky has allowed V. I. to age. The character is motivated in part by her coming of age during the Civil Rights and anti-war movements. Her mother was a refugee from Fascist Italy. V. I.'s cases are based on historical events, which makes reading them even more interesting. These books will give you food for thought while they entertain.
Blacklist
a V. I. Warshawski novel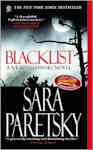 ---
---
V. I. Warshawski Mysteries
Indemnity
(1982)
Deadlock
(1984)
Killing Orders
(1985)
Bitter Medicine
(1987)
Blood Shot
(1988)
Burn Marks
(1990)
Guardian Angel
(1991)
Tunnel vision
(1994)
Hard Times
(1999)
Total Recall
(2001)
Blacklist
(2003)
Fire Sale
(2005)
Hardball
(2009)
Body Work
(2010)
---
Blacklist
by Sara Paretsky - (2003)
In the aftermath of 9/11, V. I. struggles to return to normal. Her efforts are hampered by her boyfriend, Morrell, still being on assignment in Afghanistan and not always within cell phone reach. Worried and eager for a distraction, she accepts a case from an old client. The client wants her to check out an old empty mansion that is adjacent to the retirement home in which his mother resides. She has reported seeing lights on the grounds and claims the local authorities think she is imagining things.
Expecting to find teenagers lurking about the grounds, V. I. is surprised to find a dead body. The body turns out to be a reporter who had been investigating events from 45 years ago. She is quickly sucked into a history of secrets and betrayal crossing four generations in two great Chicago families. In the course of the investigation she accidentally becomes involved in the search for a missing Egyptian boy. The boy is believed by our government to have connections to terrorists.
As she works the two cases, they converge and she discovers that wealth can bring with it a terrible price and that patriotic scoundrels exist in our past, present and undoubtedly in the our future.
In Blacklist, Sara Paretsky exhibits the best of her writing talent. Not only is this a compelling story, but in the aftermath of 9/11, it makes us examine our own fears and actions. I became so engrossed in the story that I couldn't put it down until I had finished the book.
I completely agree with the publisher that Blacklist is a stunning achievement for Sara Paretsky. Due for release on September 29, 2003, the book can be pre-ordered now.
Sara is conducting a contest through her website and giving away galleys to the winners. To enter, go to www.saraparetsky.com