Elizabeth Peters
Elizabeth Peters is one of the pen names of Barbara G. Mertz. Barbara received a PH.D. in Egyptology in 1952. As Elizabeth Peters, she has produced almost 30 mystery novels, most of which are set in Egypt and the Middle East.
Her best know character is Amelia Peabody, a well known archaeologist and amateur detective. Amelia, along with her stout umbrella and irascible husband Emerson take the reader on wonderful Egyptian adventures. The stories are set in the early 1900's and in addition to providing an entertaining mystery, give us insight into the women of that era as well as the archaeology and history of the time. The books are as entertaining and as creative as their titles. Unlike a lot of series, this one really needs to be read in order of publication.
Crocodile on the Sandbank
an Amelia Peabody Mystery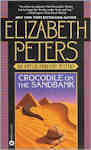 ---
---
Amelia Peabody Mysteries
Crocodile on the Sandbank
(1975)
The Curse of the Pharaohs
(1981)
the Mummy Case
(1985)
Lion in the Valley
(1986)
The Deeds of the Disturber
(1988)
The Last Camel Died at Noon
(1991)
The Snake, the Crocodile & the Dog
(1992)
The Hippopotamus Pool
(1996)
Seeing a Large Cat
(1997)
The Ape Who Guards the Balance
(1998)
The Falcon at the Portal
(1999)
He Shall Thunder in the Sky
(2000)
Lord of the Silent
(2001)
The Golden One
(2002)
Children of the Storm
(2003)
Guardian of the Horizon
(2004)
Serpent on the Crown
(2005)
Tomb of the Golden Bird
(2006)
A River in the Sky
(2010)
Jacqueline Kirby Mysteries
The Seventh Sinner
(1972)
The Murders of Richard III
(1974)
Die for Love
(1984)
Naked Once More
(1989)
Vicky Bliss Mysteries
Borrower of the Night
(1973)
Street of the Five Moons
(1978)
Silhouette in Scarlet
(1983)
Trojan Gold
(1987)
Night Train to Memphis
(1994)
The Laughter of Dead Kings
(2008)
Non-Series Mysteries
The Jackal's Head
(1986)
The Camelot Caper
(1988)
The Dead Sea Cipher
(1970)
The Night of 400 Rabbits
(1972)
Legend in Green Velvet
(1989)
Devil-May-Care
(1977)
The Love Talker
(1980)
Summer of the Dragon
(1980)
Copenhagen Connection
(1982)
---
Crocodile on the Sandbank
by Elizabeth Peters - (1975)
When thirty-one year old Amelia Peabody's studious father dies, Amelia decides to use her ample inheritance to travel. At the start of her trip to Cairo, she rescues Victorian gentlewoman Evelyn Barton-Forbes and the two become friends. Amelia hires Evelyn to be her companion on the trip.
In Egypt, Amelia encounters Radcliffe Emerson. Emerson is an opinionated archaeologist, but he is no match for Amelia's strong will and wit. Together they encounter more than just murder and a homicidal mummy.