Lisa Scottoline
Lisa, an attorney by profession, believes that you should write what you know. Therefore, her books are set in Philadelphia and feature an all female law firm. Lisa started writing in order to stay at home to raise her daughter and we are glad she did. Her books are bright, witty and well timed. They offer well crafted stories and outstanding character development.
Killer Smile
Rosato & Associates Mysteries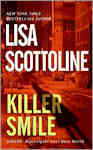 ---
---
Rosato & Associates Mysteries
Everywhere That Mary Went
(1994)
Legal Tender
(1997)
Rough Justice
(1998)
Mistaken Identity
(1999)
Moment of Truth
(2000)
The Vendetta Defense
(2001)
Courting Trouble
(2002)
Dead Ringer
(2003)
Killer Smile
(2004)
Lady Killer
(2008)
Look Again
(2009)
Think Twice
(2010)
Other Mysteries
Final Appeal
(1995)
Running From The Law
(1996)
Devil's Corner
(2005)
Dirty Blonde
(2006)
Daddy's Girl
(2007)
---
Killer Smile
by Lisa Scottoline - (2004)
Killer Smile is Lisa Scottoline's eleventh book. The book features attorney Mary DeNunzio. Young widow, Mary, immerses herself in a pro bono case with its roots in the past. Mary is determined to vindicate the arrest and eventual suicide of Amadeo Brandolini. Amadeo was arrested by the FBI as part of a mass internment of Italian-Americans during World War II. With slim information, Mary begins the research that takes her to Montana, and leads this quiet woman to risking her life to solve the mystery.
As usual, Lisa has given us a fast-paced legal thriller with a cast of unforgettable characters.