Sheldon Siegel
With over twenty years experience as a San Francisco attorney specializing in corporate and securities law, Mr. Siegel definitely has the background to write legal thrillers. His books feature Mike Daley, a former priest and former public defender. After being booted from a prominent San Francisco law firm, Mike sets up his own practice. These legal thrillers are filled with great courtroom scenes and memorable characters, including his daughter Gracie and his ex-wife, present consort, Rosie.
Final Verdict
A Mike Daley Legal Thriller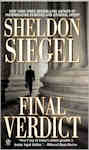 ---
---
Mike Daley Legal Thrillers
Special Circumstances
(2000)
Incriminating Evidence
(2001)
Criminal Intent
(2002)
Final Verdict
(2003)
The Confession
(2004)
Judgement Day
(2008)
Perfect Alibi
(2010)
---
Final Verdict
by Sheldon Siegel - (2003)
In Final Verdict, we find Mike Daley agreeing, against his ex-wife and now partner's wishes, to take the case of Leon Walker. Leon was a former client that Mike got off with a series of questionable maneuvers. At the time Mike and Rosie were still married and she blamed the constant fighting over Leon's case to be the wedge that broke them up.
Now a venture capitalist from Silicon Valley is found dead on San Francisco's skid row and the police are sure that Leon is guilty. Mike doesn't believe that Leon did the crime and is determined to find out what really happened. It is a race against time for both attorney and client and maybe for the partnership with his ex-wife.
As usual, Mr. Siegel, has given us a great legal thriller packed with all the frailties of the human condition.