Sarah Strohmeyer
Sarah, a reporter by profession, has created a wonderful character in Bubbles Yablonsky. Bubbles is an ex-hairdresser trying to become a full time reporter. The books are set in a steel town in Pennsylvania and a lot of the humor comes from Bubbles working class background and her wacky take on the world and life in general.
The humor is laugh out loud funny and the characters are memorable. Since, Sarah does her book signings dressed as the blond Bubbles, it shouldn't come as any surprise that she has a wonderful sense of humor.
Bubbles A Broad
A Bubbles Yablonsky Mystery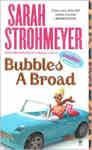 ---
---
Bubbles Yablonsky Mysteries
Bubbles Unbound
(2001)
Bubbles in Trouble
(2002)
Bubbles Ablaze
(2003)
Bubbles A Broad
(2004)
Bubbles Betrothed
(2005)
Bubbles All the Way
(2006)
---
Bubbles A Broad
by Sarah Strohmeyer - (2004)
If you haven't read the first three of Strohmeyer's books starring Bubbles, you are missing some serious laughter. Bubbles is a divorced single mother with a college-bound daughter, a lunatic mother and a social climbing ex-husband with a trophy wife. These things all combine to put her in some seriously wacky situations. While working as a hairdresser, Bubbles spent eight years at Three Guys Community College getting a degree in journalism with hopes of landing a job as a reporter.
Bubbles A Broad opens with Bubbles on a two week tryout for a position on the Lehigh, PA. News-Times. The break that Bubbles needs appears on her doorstep in the form of Carol Weaver who has just escaped from prison where she had been residing for the murder of her husband, a Lehigh Steel executive. Carol claims that someone is trying to kill her and that as a journalist, Bubbles needs to investigate Lehigh Steel. Strohmeyer expertly plays Bubbles's blue-collar background off that of Lehigh Steel's country club types and their wives. The resulting class warfare is witty and entertaining.
After she's shot at and stalked, her photo-journalist boyfriend, Steve Stiletto stashes Bubbles chastely in the bedroom of his mansion (an inheritance from his late father.) It isn't long before they find time to change the status of their unrequited love. To complicate her personal life even further, Steve announces that he's done with all other women and wants her to run off to England with him.
Bubbles, dressed in high heels, leopard-print mini skirt, an ample layer of makeup and big hair, manages to solve the case with a mixture of common sense and just plain bumbling good luck. Bubbles is good-hearted, persistent and will make you laugh out loud with her antics and her take on life. If you like your mysteries sprinkled with laughter, you are going to love Bubbles.
Sarah Strohmeyer won an Agatha Award and a Romantic Times Award for Best First Mystery. She has worked as a journalist for many publications, including The Boston Globe, the Plain Dealer (Cleveland), and Salon.com. For tour and other information, check out her website.